Scenic Drive
West Mountain Drive in Hot Springs, Arkansas
Make sure to take the scenic drive up West Mountain. If you are on Central Avenue heading toward the fountain (start of Central Avenue) take a left on Whittington Avenue. After a short drive you will see the West Mountain Drive sign on the left. Drive up to the summit for some great views, hiking trails, and picnic tables for taking a break. There are several places to pull over and take in the views. At the end of the summit drive you can go back down the way you came or if you keep going in the direction you were going you will end up on the other end of town at Prospect Avenue not far from West Grand Ave.
Hot Springs Mountain Tower from West Mountain in Hot Springs, Arkansas
Picnic Shelter at the West Mountain Summit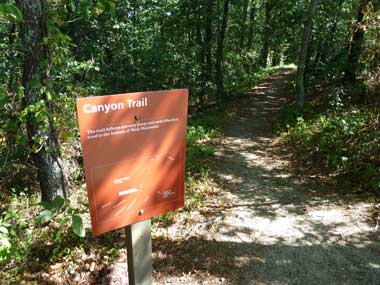 West Mountain Canyon Trail at the summit takes you to the bottom of West Mountain behind the Mountain Valley Water building.
Picnic Shelter at the West Mountain Summit
West Mountain Summit view in Hot Springs, Arkansas
View of Hot Springs Convention Center from West Mountain Summit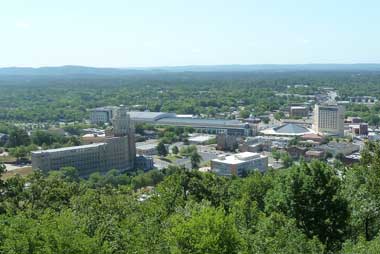 View of Rehabilitation Center, Federal Courthouse, Convention Center, and Austin Hotel in Hot Springs from West Mountain