FREE
Hot Springs, Arkansas - Top Free Things To Do
1. Visit the Fordyce Bathhouse Museum & Hot Springs National Park Visitor Center then stroll down bathhouse row and the Grand Promenade. Tour through the visitor's center in the restored Fordyce Bathhouse, the only bathhouse that had a bowling alley. After your tour is complete stroll past the other bathhouses on Bathhouse Row then up to the Grand Promenade where you can see a natural hot spring but be careful it comes out at 143º F. Also make sure to see the hot spring water cascade down to the Arlington lawn area. Take a look at the blue-green algae. One of these hot water algae varieties is so rare it is only found in 5 other places on earth.

2. Take a scenic drive up Hot Springs Mountain (also called North Mountain). This is a must do sharp hairpin curve drive! This drive has great views of the Hot Springs National Park forest and the city. To see North Mountain from the visitor's center take a right just before the Arlington Hotel (Fountain Street) then follow the signs for Hot Springs Mountain. There are several pull-offs where you can stop, get out and take in the views. This drive also leads to the Hot Springs Mountain Tower.

3. Take a scenic drive up West Mountain

4. Have a picnic on the Grand Promenade, Hot Springs Mountain, West Mountain, or at Gulpha Gorge campground. Can you think of a better way to enjoy the outdoors than to have a picnic and enjoy the scenery at any of these sites? The Hot Springs Mountain drive also takes you to the Hot Springs Mountain Tower.

5. Take a drive on the Arkansas Scenic 7 Byway (Central Ave). This was Arkansas' first state-designated scenic byway. It goes in both directions but I recommend driving north to pass through the Ouachita National Forest and all the way to Russellville if you have the time.

6. Go on a hike through the national park forest. Dead Chief Trail - The Dead Chief Trail (Oertel Trail) is approximately 1.4 miles in length. It intersects the Gulpha Gorge Trail. It goes from Bathhouse Row to the campground at Gulpha Gorge.

Gulpha Gorge Trail -The Gulpha Gorge Trail is approximately 0.8 miles in length. This trail starts either at Gulpha Gorge campground or at the shelter on Hot Springs Mountain. More hiking trail information here.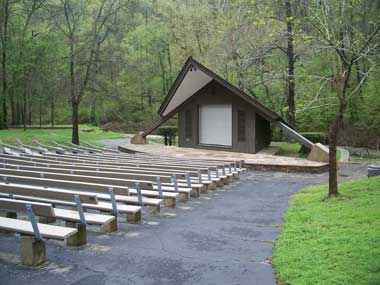 7. Browse Downtown Hot Springs Art Galleries - More and more art galleries are opening in downtown Hot Springs bringing a vast variety of paintings, glass, and other forms of art. Be careful, while browsing is free you might find something you want to take home.

8. Fill up your water jugs with hot spring water for free! These water filling stations are located near the corner of Central Avenue and Reserve Street. I used to go with my grandmother to fill up a hundred jugs at a time back before people ever considered paying for bottled water. Hot Springs Water Filling Station - Free Water, Just Bring a Jug.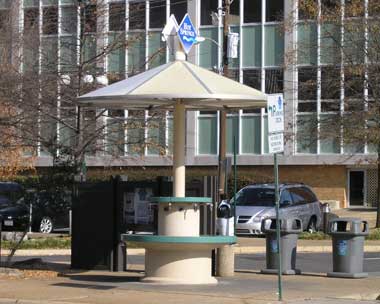 9. Visit Mountain Valley Spring Water Visitor Center Mountain Valley Spring Water was being sold long before buying bottled water was cool. Mountain Valley Spring Water got its start in 1871. The water comes from a spring near Hot Springs, Arkansas that was recognized for its purity and beneficial mineral content. The water was soon distributed from a building on Central Avenue not far from where the headquarters and visitor's center is now located. Mountain Valley Water is touted as the only American water distributed nationally under one label. The visitor center offers free samples and self guided tours of exhibits including historic photographs and antique bottles. Mountain Valley Spring Company 150 Central Avenue, Hot Springs, Arkansas (501) 624-1635

10. Hot Springs National Park Cell Phone Tour - Take the self-guided cell phone tour to learn more about the national park. The Hot Springs walking tour part of it starts at the administration building on bathhouse row. The other points of interest require a drive. Just call 501-545-2084 then press the selection number on the map or sign and then the # key to hear all about the location.