Where To Stay
Hot Springs, Arkansas Hotels, Resorts & Cabins (H-P)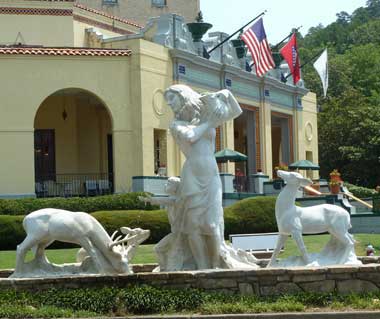 Hampton Inn
151 Temperance Hill Rd Hot Springs, Arkansas 501-525-7000
The Hampton Inn Hot Springs has 83 rooms and they provide free in-room WiFi and free breakfast. It is located a short walk from Taco Pronto on Central Avenue and it is close to the Hot Springs Mall.

The Hamilton (formerly the Country Inn-Lake Resort)
1332 Airport Rd (Highway 70W) Hot Springs, Arkansas 501-767-3535 The Hamilton is located on Lake Hamilton. There is a swimming dock. If you go make sure you give Cotija Mexican Restaurant a try!

Hilltop Manor Bed & Breakfast
2009 Park Ave Hot Springs, Arkansas 501-625-7829
The Hilltop Manor Bed and Breakfast has 5 suites in a historic home built in 1890. It is located across the highway and just before the Old Mill Wedding Chapel if you are heading out of town on highway 7. It is said to be a combination of Asian and American architecture. Amenities include free in-room WiFi, iPod docking station, DVD player with access to free DVD library and complementary breakfast. The Hilltop Manor is also not far from Fox Pass Pottery.

Home2 Suites by Hilton
106 Catalina Cir, Hot Springs, AR 71913 501-520-4444
Hotel with in-suite kitchen overlooking Lake Hamilton Marina.

The Hotel Hot Springs
305 Malvern Ave Hot Springs, Arkansas 501-623-6600
Located next to the Hot Springs Convention Center the Hotel Hot Springs is a high rise hotel that started out as a Hilton. It has an indoor/outdoor pool and free WiFi.

Knotty & Nice Bed & Breakfast & Cabin
7200 Central Ave Hot Springs, Arkansas 501-520-0053 or 501-802-6213
Located a little over 8 miles past the Hot Springs Mall on Hwy 7 South the Knotty and Nice Bed and Breakfast is a beautiful log cabin and rock home surrounded by trees and forest land. It has 5 suites or cabins. Only one of them, "the Guest Suite", includes breakfast. The others have a kitchen so you can prepare your own breakfast. Not really the definition of a bed and breakfast but it looks like a nice secluded place.

La Quinta Inn & Suites by Wyndham
4253 Central Avenue Hot Springs, AR 71913 501-520-6400
The hotel has a free breakfast a fitness center, pool and free in-room WiFi.

Long Island Lake Resort
320 Long Island Dr, Hot Springs, AR 71913 501-359-5374
Rooms on Lake Hamilton with full kitchenettes, satellite television with Direct TV, free WiFi, a lighted pavilion with BBQ grills, picnic tables, a swimming dock, and beautifully kept grounds

Lookout Point Lakeside Inn Bed & Breakfast
104 Lookout Circle Hot Springs, Arkansas 501-525-6155
Overlooking Lake Hamilton and just off Central Avenue the Lookout Point Inn Bed and Breakfast features rooms and suites all with a lake view and WiFi. They have a great web page that compares each room's amenities. Their breakfasts are elaborate. Jose's Mexican Restaurant is a short distance further down Central Avenue on the left.

Park Hotel
211 Fountain St Hot Springs, Arkansas 501-624-5323
Park Hotel is in a great location in downtown Hot Springs next to the National Park and the Arlington Hotel. If you are looking for a lower cost hotel as close as you can get to Hot Springs National Park this is it. The rooms are basic and the decor is dated but there's a lot of history in this 1930's hotel. Angels In The Park Restaurant is located in the Park Hotel.

Prospect Place Bed & Breakfast
472 Prospect Ave Hot Springs, Arkansas 501-318-0385
Built in 1885 and located at the base of West Mountain and four blocks from downtown Hot Springs, the Prospect Place Bed & Breakfast has four guest rooms on the second floor with private bathrooms, TVs and WiFi.