Hot Springs Tips Home
Hot Springs Best Restaurants

Hot Springs Recommended Attractions

Free Things To Do in Hot Springs

Hot Springs Hotel Reviews, Resorts & Lodging A-B, C-G, H-P, Q-Z
---
Hot Springs Restaurants
A-B, C-D, E-J, K-P, Q-Z

List Of Things To Do in Hot Springs

Hot Springs RV Parks & Camping

Hot Springs Hotels, Resorts & Lodging A-B, C-G, H-P, Q-Z

Art Galleries / Hot Springs Gallery Walk

Hot Springs Art Related Websites

Contact Us / About Us

Brick House Grill





801 Central Avenue, Suite 24, Hot Springs, Arkansas
501-321-2926

The Brick House Grill is located in the back of Spenser's corner in downtown Hot Springs. They have a menu with many of the standards including steak, chicken, burgers, soups and salads. I've mainly ordered steaks and sandwiches here. I have particularly enjoyed their soups in the past with a meal.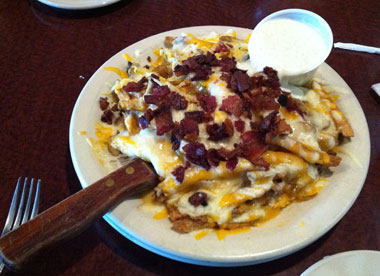 Brick House Grill Cheese Fries with bacon and ranch. A pile of jalapenos would make this perfect.