Hot Springs Tips Home
Hot Springs Best Restaurants

Hot Springs Recommended Attractions

Free Things To Do in Hot Springs

Hot Springs Hotel Reviews, Resorts & Lodging A-B, C-G, H-P, Q-Z
---
Hot Springs Restaurants
A-B, C-D, E-J, K-P, Q-Z

List Of Things To Do in Hot Springs

Hot Springs RV Parks & Camping

Hot Springs Hotels, Resorts & Lodging A-B, C-G, H-P, Q-Z

Art Galleries / Hot Springs Gallery Walk

Hot Springs Art Related Websites

Contact Us / About Us
Haunted Majestic Hotel Bathhouse & Spa?

In July of 2010 the Biography Channel featured Hot Springs' Majestic Hotel in their "I Died in This House" episode of "My Ghost Story". The TV show segment titled "Shower Spa Ghost" was narrated by Karen Shillings and Chad Almond, both members of a local paranormal research organization, as they re-told their experience at the Majestic one evening with cameras in hand. They experienced strange things including a curtain being moved from the floor to the ceiling while their cameras were rolling.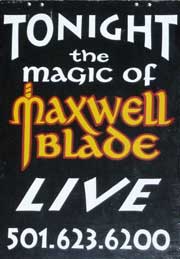 Things To Do / Attractions List in Hot Springs, Arkansas
Arkansas Alligator Farm & Petting Zoo
847 Whittington Avenue
Hot Springs, Arkansas
501-623-6172, 800-750-7891
www.arkansasalligatorfarm.com
Founded in 1902, the Alligator Farm is the oldest attraction in Hot Springs. Where else can you pet a live alligator? They have alligators up to 10 feet long and a petting zoo with llamas, deer, pygmy goats, sheep, and ostriches. Admission $6.50

Arkansas Scenic 7 Byway - Take a scenic drive
Arkansas' first state-designated scenic byway goes through Hot Springs. It makes for a great drive to see the surrounding natural beauty. Head North passing through the Ouachita National Forest to Lake Nimrod then finally ending in Russellville.

Arkansas TheatreWorks
1008 Central Avenue
Hot Springs, Arkansas
501-623-7833
www.arktwks.org
Arkansas TheatreWorks is a professional theatre company in Hot Springs. It is located in the historic Central Theatre which has been completely remodeled with state-of-the-art lighting and sound systems. The 275 seat theatre is both spacious and intimate. See the website for production dates and times.

Bathhouse Row

Hot Springs National Park, Arkansas
Stroll along the park's famous bath house row and take in the history as you go. Today Bathhouse Row consists of eight bathhouse buildings that were constructed between the years of 1892 and 1923. Bathhouse Row along with the Grand Promenade was designated as a National Historic Landmark District in 1987. Bathhouse row is one of the top things to do in Hot Springs.

Belle of Hot Springs Riverboat
5200 Central Avenue
Hot Springs, Arkansas
501-525-4438
www.belleriverboat.com
The Belle of Hot Springs Riverboat will take you on a relaxing tour and ride on Lake Hamilton. Cruise prices are reasonable. The 300 passenger riverboat also offers lunch and dinner cruises.



Buckstaff Baths


509 Central Avenue
Hot Springs, AR 71901
www.buckstaffbaths.com
The Buckstaff is one of the only two remaining operational bathhouses within the boundaries of Hot Springs National Park and has been in continuous service since 1912. Visitors can experience the natural, unadulterated thermal mineral waters known for centuries for their therapeutic value in the relief of common ailments such as arthritis. Take the time to unwind and experience relaxation to its fullest during your visit to Hot Springs. Open 7 a.m. -11:45 a.m. and 1:30 p.m.-3 p.m. Monday-Saturday and 8 a.m.- 11:45 a.m. Sunday March-November; andOpen 7 a.m. -11:45 a.m. and 1:30 p.m.-3 p.m. Monday-Friday and 7 a.m.- 11:45 a.m. Saturday December-February.

Brady Mountain Riding Stables
4120 Brady Mountain Road
Royal, Arkansas
501-538-6154
www.bradymountainridingstables.com
Ride a horse along trails and streams of water where wildlife often drink in the Ouachita mountains. Located near Lake Ouachita.

Fordyce Bathhouse Museum &

Hot Springs National Park Visitor Center
300 Block of Central Ave.
Hot Springs, Arkansas
501-624-2308 or 501-624-2701
www.nps.gov/hosp
Open everyday except Thanksgiving, Christmas, and New Year's Day. In 1915 the Fordyce Bathhouse was considered the best in Hot Springs. Extensive restoration brought the Fordyce Bathhouse back as it was in its early years including its beautiful stained glass ceilings and statues.

The Gangster Museum of America
510 Central Avenue
Hot Springs, Arkansas
501-318-1717
www.tgmoa.com
A unique look at the lives and times of the country's most notorious mobsters who flocked to Hot Springs in the '20s, '30s, and '40s. These include Al Capone, Lucky Luciano, and Owen Vincent Madden. Enter the world of casino gambling at an exhibit featuring actual equipment from former Hot Springs clubs.

Garvan Woodland Gardens

550 Arkridge Road
Hot Springs, Arkansas
800-366-4664 or 501-262-9300
www.garvangardens.org
Garvan Woodland Gardens is Arkansas' premier botanical garden. It is located on a Lake Hamilton 210-acre peninsula. In late November through December the gardens light up with an elaborate holiday lights display. The Garden features a welcome center, gift shop, a four-acre Asian rock and stream garden (The Garden of the Pine Wind), the Full Moon Bridge, Verna C. Garvan Pavilion designed by Architects E. Fay Jones and Maurice Jennings, 20-foot tall Canopy Bridge, waterfalls, springs, cascading streams, Japanese Maple Hill, Border of Old Roses, paved trails and hundreds of thousands of plantings.
Open 7 days a week.

The Grand Promenade
Hot Springs National Park
A 1/2 mile long scenic walkway above the bath houses in Hot Springs National Park. The Grand Promenade has game tables (bring your own checkers) benches, plazas and natural beauty all around. This makes for a great stroll or picnic stopping point in the national park.

Hot Springs Mountain Tower
401 Hot Springs Mountain Dr
Hot Springs National Park, Arkansas
501-623-6035, 800-SPA-CITY
Ride the elevator up to 1,256 feet above sea level to a great view of Hot Springs National Park and the Ouachita Mountains. More on Hot Springs Mountain Tower


Josephine Tussaud Wax Museum
250 Central Ave.
Hot Springs, Arkansas
501-623-5836
See life like figures of celebrities, royalty, presidents and a creation of Leonardo Da Vinci's "Last Supper".

Magic Springs Theme Park and Crystal Falls Water Park
1701 Highway 70 E.
Hot Springs, Arkansas
501-624-0100
www.magicsprings.com
A Theme Park and a Water Park all in one.

The Maxwell Blade Magic Lantern Theater
121 Central Ave.
Hot Springs, Arkansas
501-623-6200
www.maxwellblade.com
Two hours Magic and Illusions from Maxwell Blade in a new location. Call for show times as they do vary. Shows start at 8PM Monday-Saturday through Labor Day weekend. Friday and Saturday matinees during summer start at 2PM. Admission $16 for Adults and $11 for children 12 and under.




Mid - America Science Museum
500 Mid-America Blvd.
Hot Springs, Arkansas
501-767-3461, 800-632-0583
www.midamericamuseum.org
This Smithsonian Affiliate museum is largest hands-on science center in Arkansas. Discover, create, and experiment to make learning fun. See world's largest conical Tesla Coil, "Caged Lightning", which produces 1.5 million volts of electrical energy. What is a tesla coil? Read all about it and see the museum mentioned at en.wikipedia.org/wiki/Tesla_coil.

Mountain Valley Spring Visitorís Center - Located on 150 Central Avenue this two story building was constructed in 1910 was the original home to the DeSoto Mineral Springs. The building was built over a spring that can still be seen today at the rear of the first level. It houses a museum of Mountain Valley bottles and memorabilia. Admission is free. www.mountainvalleyspring.com

National Park Aquarium
209 Central Avenue
Hot Springs, Arkansas
501-624-3474
Arkansas' largest fish and reptiles exhibit. Arkansas fish and many saltwater species displayed in their natural habitats.

National Park Duck Tours
418 Central Avenue
Hot Springs, Arkansas
501-321-2911
www.rideaduck.com
The "Ducks" depart across from Bathhouse Row in downtown Hot Springs. They will take you on a tour through Hot Springs and into Lake Hamilton for a cruise and back in around an hour and 15 minutes.

Oaklawn Park
2705 Central Avenue
Hot Springs, Arkansas
800-OAKLAWN, 501-623-4411
www.oaklawn.com
Thoroughbred racing January through April

Pirate's Cove
4612 Central Avenue
Hot Springs, Arkansas
501-525-9311
www.piratescove.net
Two 18-hole miniature golf courses.

The Pocket Theatre
2138 Higdon Ferry Rd.
Hot Springs, Arkansas
501-525-PLAY (7529)
www.pockettheatre.com
Support live theatre and check out a Pocket Theatre performance.



Quapaw Baths & Spa


413 Central Avenue
Hot Springs, AR 71901
(501) 609-9822
www.quapawbaths.com
Experience Hot Springs' thermal mineral water in a unique way in one of Quapaw Baths & Spa's four thermal water soaking pools or in the recently opened private bathing area. The expertly trained, experienced therapists provide massages, facials, and body polishes designed to leave guests rejuvenated. Also, visit the Quapaw Cafe. Open 10 a.m.-6 p.m. Monday and Wednesday - Saturday and Open 10 a.m. - 3 p.m. Sunday.

Safari Fall's Miniature Golf
2614 Albert Pike
Hot Springs, Arkansas
501-767-8140
www.funtrackersfamilypark.com
18 hole miniature golf course overlooking Lake Hamilton & more.

Tiny Town
374 Whittington Avenue
Hot Springs, Arkansas
Miniature train town built from recycled material (tin cans, sticks, wire and sawdust) over a 50 year period.

West Mountain Drive


The Winery of Hot Springs
1503 Central Ave.
Hot Springs, Arkansas
501-623-9463
www.hotspringswinery.com
Free tour and presentation followed by an opportunity to taste a variety of Arkansas wines and Arkansas-brewed beers.

The Witness
1960 Millcreek Road
Hot Springs, Arkansas
501-623-9781
www.witnessproductions.com
Hot Springs musical Passion Play is located at the Witness Amphitheater located near Magic Springs Theme Park. The Greatest Story ever told, the birth, life, death and resurrection of Jesus as told by Peter. Starts in June and goes through the first weekend in October every Friday and Saturday night at dusk.