Hot Springs Tips Home
Hot Springs Best Restaurants

Hot Springs Recommended Attractions

Free Things To Do in Hot Springs

Hot Springs Hotel Reviews, Resorts & Lodging A-B, C-G, H-P, Q-Z
---
Hot Springs Restaurants
A-B, C-D, E-J, K-P, Q-Z

List Of Things To Do in Hot Springs

Hot Springs RV Parks & Camping

Hot Springs Hotels, Resorts & Lodging A-B, C-G, H-P, Q-Z

Art Galleries / Hot Springs Gallery Walk

Hot Springs Art Related Websites

Contact Us / About Us
McClard's Bar-B-Q, Southern BBQ
505 Albert Pike, Hot Springs, Arkansas
501-624-9586

Since 1928 McClard's has been serving outstanding BBQ to visitors of Hot Springs National Park. McClard's is still family owned and operated. They serve food that is truly unique. They use a sauce that is more spicy than sweet on their hickory pit BBQ. I recommend the beef or pork sandwiches with French fries. These real potato French fries seem to have a hickory smoked flavor that is great. Also the tamale spread is excellent but you had better be hungry (Hot Tamales, BBQ beans, Fritos, BBQ beef, cheese, and lots of BBQ sauce!).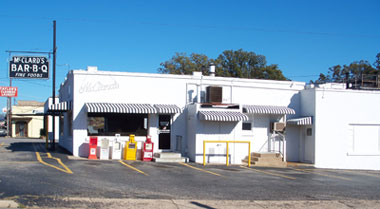 McClard's BBQ is one of the first restaurants locals will tell you about in Hot Springs, Arkansas.